It's February, the month when I'm reminded once again that conversation hearts for your eyes, not your mouth, the month my toddler's obsession with hearts reaches a frenzied zenith, and the month wherein I ask my husband to do the taxes. Luckily for you, it is also a month that makes my sponsors feel generous, so today I have my first annual V-Day Giveaway!
It all started with Kelly from Let's Die Friends, who has been making these adorable heart pins in her shop. I chose one for me  to wear on my DIY cowl and one for Isobel and Kelly sent along an extra one for me to pass along to you. I'm not saying it's because she loves me, but the pin IS heart-shaped, so I'm going to read into that. I feel a special kinship with Kelly because we both married nerds, have daughters of a similar age, and adore cheese in all its various forms. Plus, we're both unicorns.
After she gave me this pin I decided to toss in some vintage goodies, so the lucky winner will also receive two heart scarves, a vase, and an espresso mug that says <3HAG.  I have no idea what that means, the woman who owned the thrift shop has no idea what it means, but that hardly matters. It's a mug that says "HAG" with a heart. Maybe your true love is espresso? This mug might be for you.
Not to be outdone, by bestie Angela of Red Star Designs  not only makes valentine's cards and other stationery on Etsy, but she is actually born on Valentine's Day, which gives her magical powers. She tossed in a set of awesome "Love Stinks" valentines. Her son is going to giveaway these babies this year, automatically making her the coolest mom ever.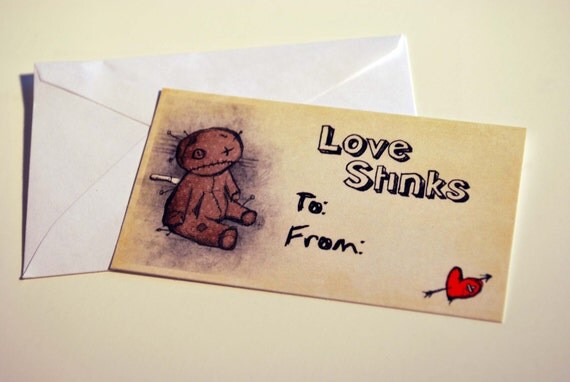 Last but not least, my jet-setting European friend Gigi is a wicked photographer who speaks multiple languages and, oh yeah, has also just written a book. She agreed to toss in a copy of her erotic romance novel, Mr French Man, to the winner or recipient of the winner's choice.
You want stuff! I want to give it to you! So let's get down to the nitty-gritty.
FABULOUS PRIZES!
The winner will receive:
An espresso mug that says HAG
A milky white vintage scarf trimmed with tiny red hearts
A red cotton napkin emblazoned with white hearts
A delicate vintage floral vase
A sparkly heart pin from Let's Die Friends
A package of Love Stinks valentines from Red Star Designs
A Kindle copy of Mr French Man, a romance novel by Gisela Francisco
PLUS A handmade valentine from Isobel
RULES & SUCH
So what do you need to do to get  your hands on this sweet V-Day goodness?
Visit a Little Big sponsor (easy!).
Find something you like (really easy!).
Link to it in the comments (super easy!).
You may do this once per sponsor, which means you can have a total of ten entries – actually, plus twitter, that's eleven!- total.
REMEMBER: Please leave a separate comment per sponsor so I can accurately tally your entries. I don't often bust out the bold & italic font combo, but giveaways are a special occasion.
TWEET, TWEET!
For an extra entry, you may tweet this message below verbatim. Be sure you come back to the blog and leave a separate comment saying you did so!
"Little Big's V-Day Giveaway is for responsible adults only. I entered anyway! Visit www.thelittlebigblog.com via @exlibris"
Contest is open until Thursday at 6:00 pm Pacific time and winners will be announced in the Follow Friday post. Best of luck and thanks for reading!